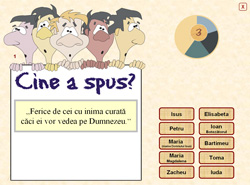 Playing on your computer you can learn a lot about some of the characters in the New Testament! An interesting program with you can test your knowledge but also attention and speed of response! !
Several levels, with varying degrees of difficulty, conducted counter-time and questions about
words spoken by characters - 3 levels
acts of characters - 3 levels
atitudes of characters - 2 levels
items associated with characters - 2 nivele
Other characteristics of this software:
a simple and intuitive menu
at the beginning of each level, players can opt to move to a system of "help" illustrated with practical, animated examples
questions answered incorrectly can be resumed, but your time would be shorter
as an answer is given, the correct answer is displayed and the player can opt to display the Bible reference for the verse containing the correct answer
Interesting? You can download a demo here!