A funny and educational game for
kids, parents and grandparents!
VBS, camps, kid's clubs, Sunday Schools, family trips... you name it!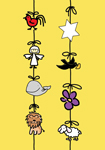 In the box you will find 51 cards:
25 cards that include: a nice coloured pictrure of a Bible character, together with an object or element in nature that is related to that character, character name, reference of a Bible verse that speaks about that character and a number indicating how many years before us lived that character
25 cards on which the object or element in nature that is related to a character, the Bible verse reference, and a phrase that present something important about the character.
a card called The Little Bee, on which is drawn, of course, a bee!
With these cards you can play four different games, each of them described on the rules of the game sheet found in the box: The Little Bee, Time Line - left or right?, Time Line - hooper!, Time Line - each one.